Don't Use Gorilla Glue Instead of Hair Spray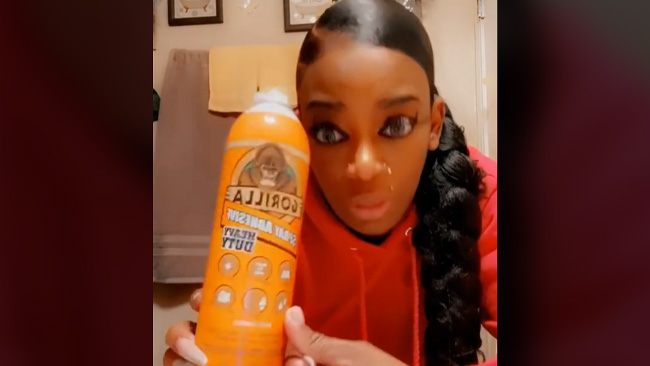 UPDATE: Gorilla Glue's Grip on Girls Hair is NO More!
After having her hair glue for over a month, Tessica has finally released the Gorilla Glue Grip on her hair.
The USD$12,500 surgery was performed by a plastic surgeon, Dr. Michael K. Obeng, who did the surgery for free.
Watch the video to see how this all came unstuck.
Original Article
If you run out of Hair Spray, don't use Gorilla Glue to keep your hair in place. Otherwise, you will end up like TikTok user @im_d_ollady
Tessica Brown made the mistake after she had run out of hair spray and that mistake has gone viral with almost 20 million views on TikTok.
She explained in the TikTok video that her hair had been like that for a month after using Gorilla Glue instead of Hair Spray.
"Bad Bad Bad Idea" she exclaims strongly in the video.
The hashtag #gorillagluegirl is trending on Twitter with people looking for updates.
Since releasing the video, Miss Brown has been to the emergency department in hopes of a solution.
Gorilla Glue has also released a statement on Twitter in response to the incident with their product.
We are very sorry to hear about the unfortunate incident that Miss Brown experienced using our Spray Adhesive on her hair. We are glad to see in her recent video that Miss Brown has received medical treatment from her local medical facility and wish her the best. pic.twitter.com/SoCvwxdrGc

— Gorilla Glue (@GorillaGlue) February 8, 2021
Currently, Miss Brown has a GoFundMe page to help pay for the treatment she needs.
Sitting at over $10,000 US Dollars, the target of $1,500 has been smashed.
One of the last updates on her Instagram account shows a bottle of sterile water and some alcohol wipes claiming "This is really about to be a long process"
Good luck Tessica!